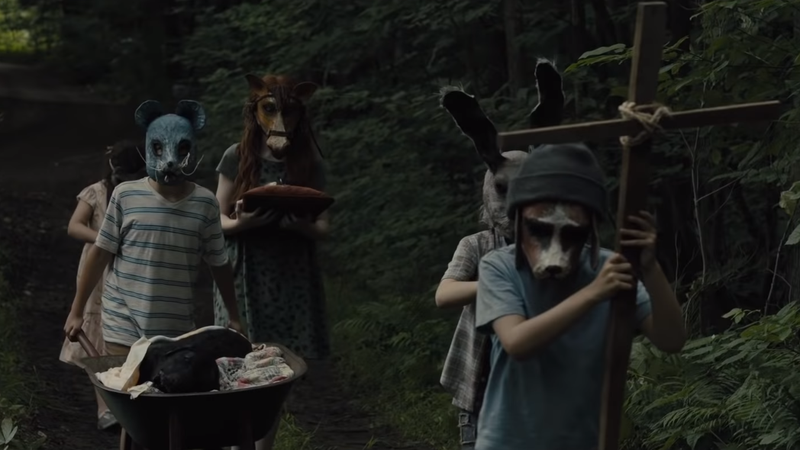 Parfois, les morts sont meilleures, ce qui correspond généralement aux sentiments des participants au SXSW lors du septième jour du festival du film et de la musique à Austin. Cela rend d'autant plus judicieux le choix de la fermeture de nuit de cette année, puisque SXSW a officiellement consolidé Dennis Widmyer et Kevin Kölsch. Cimetière pour animaux de compagnie remake comme envoi à son festival du film 2019. Comme annoncé précédemment, le festival s'ouvrira avec Jordan Peele Nous, en réservant sept (ou 700, qui peut compter à ce moment-là?) de folie cinématographique avec terreur psychologique. Quoi de mieux pour cette semaine que dormir sans film, musique, bière et activations (tant d'activations) à Austin, au Texas?
En outre, SXSW a annoncé sa gamme complète de films, y compris les festivals préférés tels que Alex Ross Perry. Son odeur, interprétée par Elisabeth Moss comme un punk-rocker autodestructeur; comédie zombie et les récents haricots Sundance Petits monstres; et La montagne, La suite tant attendue de Rick Alverson amusementavec Jeff Goldblum et Tye Sheridan. Fonctionnalité de la ligne Midnighters de 2019 Daniel n'est pas réel, la suite du réalisateur Adam Egypt Mortimer Un peu de haineavec le protagoniste Miel américain Sasha Lane évasion, ainsi que Fille au troisième étage, le premier long métrage du producteur prolifique de genre Travis Stevens, dont les crédits incluent Émotions bon marché et Yeux étoilés (du couple derrière Cimetière pour animaux de compagnie, pas moins).
Vous trouverez ci-dessous une description complète des films mentionnés ci-dessus et de tous les titres SXSW 2019 annoncés précédemment.
CARACTÉRISTIQUES
Pleinelunes

7 raisons de s'échapper (de l'entreprise) (Espagne)
Réalisateurs: Esteve Soler, Gérard Quinto, David Torras, Scénariste: Esteve Soler
7 raisons de s'échapper jette un regard critique sur la société d'aujourd'hui et remet en question les valeurs qu'elle véhicule. Acteurs: Sergi Lopez, Emma Suarez, Lola Dueñas, Alex Brendemuhl, Alain Hernandez et Francesc Orella (Première mondiale)
Corps à Brighton Rock
Réalisatrice / scénariste: Roxanne Benjamin
Un employé inexpérimenté du parc découvre un cadavre sur un sentier de montagne isolé et doit rester avec lui toute la nuit dans le désert, pour faire face à ses peurs les plus sombres. Acteurs: Karina Fontes, Casey Adams, Emily Althaus, Brodie Reed, Martin Spanjers, John Getz, Miranda Bailey, Susan Burke, Matt Peters (Première mondiale)
Boyz dans le bois (Royaume-Uni, États-Unis)
Réalisateur / scénariste: Ninian Doff
Lorsque quatre écoliers de la ville entreprennent un voyage de camping traditionnel avec le prix du duc d'Édimbourg qui les a plongés dans les Highlands écossais, ils se sont retrouvés pourchassés par un couple masqué bouleversé dans le but de détruire cette "faune" adolescente. Acteurs: Eddie Izzard, Kate Dickie, James Cosmo, Kevin Guthrie, Jonathan Aris, Alice Lowe, Samuel Bottomley, Viraj Juneja, Rian Gordon, Lewis Gribben (Première mondiale)
Daniel n'est pas réel
Réalisateur: Adam Egypt Mortimer, scénaristes: Brian DeLeeuw, Adam Egypt Mortimer
Troubled Luke souffre d'un violent traumatisme familial et ressuscite l'ami imaginaire de son enfance pour l'aider à faire face. Charismatique et plein d'énergie maniaque, "Daniel" aide Luke à réaliser ses rêves, avant de le pousser à une lutte désespérée pour son âme. Acteurs: Patrick Schwarzenegger, Miles Robbins, Sasha Lane, Hannah Marks et Mary Stuart Masterson (Première mondiale)
Darlin '
Réalisatrice / scénariste: Pollyanna McIntosh
Dans cette suite visuellement inventive de La femme, une fille sauvage est prise dans des soins catholiques et préparée pour sa première communion. Acteurs: Lauryn Canny, Bryan Batt, Nora-Jane Noone, Cooper Andrews, Pollyanna McIntosh (Première mondiale)
Fille au troisième étage
Réalisateur / scénariste: Travis Stevens
Don Koch tente de rénover une maison délabrée avec une histoire sordide pour sa famille grandissante, seulement pour savoir que la maison a d'autres projets. Acteurs: Phil Brooks, Trieste Kelly Dunn, Sarah Brooks, Elissa Dowling, Karen Woditsch, Travis Delgado, Marshall Bean, Anish Jethmalani, Mgr Stevens, Tonya Kay (Première mondiale)
Je te vois (Royaume-Uni, États-Unis)
Réalisateur: Adam Randall, auteur: Devon Graye
D'étranges événements affectent un enquêteur d'une petite ville et sa famille alors qu'ils enquêtaient sur la disparition d'un garçon. Acteurs: Helen Hunt, Jon Tenney, Judah Lewis, Owen Teague, Libe Barer, Greg Alan Williams, Erika Alexander, Allison King (Première mondiale)
Snatchers
Réalisateurs: Stephen Cedars, Benji Kleiman, scénaristes: Stephen Cedars, Benji Kleiman, Scott Yacyshyn
Après une première relation sexuelle avec une adolescente célèbre, elle se retrouve enceinte – avec un étranger. Sans personne vers qui se tourner, à l'exception de son ex-meilleur ami nerd, il devra risquer sa peau et son statut social pour lutter contre la terrible menace extraterrestre. Acteurs: Mary Nepi, Gabrielle Elyse, Austin Fryberger, JJ Nolan, Nick Gomez, Ashley Argota, Amy Arburn, Amy Landecker, Rich Fulcher (Première mondiale)
Contes de la loge (Royaume-Uni)
Réalisatrice / scénariste: Abigail Blackmore
Quand un groupe de vieux amis passe la nuit à raconter des histoires de meurtres, de fantômes, de zombies et de biens, ils réalisent bientôt une autre histoire qui se déroule autour d'eux. Et c'est réel. Distribution: Mackenzie Crook, Dustin Demri-Burns, Laura Fraser, Sophie Thompson, Johnny Vegas et Kelly Wenham (Première mondiale)
faux
Réalisateur / scénariste: Richard Bates, Jr.
Deux générations font face à des résultats terrifiants dans ce film d'horreur d'invasion domestique, qui est aussi une critique humoristique et comique du climat culturel et politique retentissant des États-Unis. Acteurs: Robert Patrick, Kim Delaney, Hayley Marie-Norman, Ray Wise, Johnny Pemberton, Keisha Castle-Hughes, AnnaLynne McCord, Nelson Franklin et Ronnie Gene-Blevins (Première mondiale)
FAVORIS DU FESTIVAL

Apollo 11
Directeur: Todd Douglas Miller
Regard sur la mission Apollo 11 d'atterrissage sur la lune dirigée par le commandant Neil Armstrong et le pilote Buzz Aldrin.
Aquarela (Allemagne, Royaume-Uni)
Réalisateur: Victor Kossakovsky, scénaristes: Victor Kossakovsky, Aimara Reques
Aquarela est un voyage profondément cinématographique à travers la beauté transformatrice et la force brute de l'eau. Tourné à 96 images par seconde, c'est un réveil viscéral que les humains ne sont pas à la hauteur de la force et de la volonté de l'élément le plus précieux de la Terre.
Herbe plus verte
Réalisateurs / scénaristes: Jocelyn DeBoer, Dawn Luebbe
Une comédie délicieusement tordue qui se déroule dans un faubourg intemporel où tous les adultes portent des bretelles droites, les couples coordonnent leurs tenues repassées avec soin et les membres de la famille convoités sont échangés de plusieurs façons dans ce concours. , l'acceptation. Acteurs: Jocelyn DeBoer, Dawn Luebbe, Beck Bennett, Neil Casey, Mary Holland, Arcy Carden, Dot-Marie Jones, Janicza Bravo, Jim Cummings, Lauren Adams
Son odeur
Réalisateur / scénariste: Alex Ross Perry
Un punk rocker autodestructeur se bat avec sobriété pour retrouver l'inspiration créatrice qui a conduit son groupe au succès. Acteurs: Elisabeth Moss, Cara Delevingne, Dan Stevens, Amber Heard, Agyness Deyn, Gayle Rankin, Ashley Benson, Eric Stoltz et Dylan Gelula
Août le plus chaud (Canada, États-Unis)
Directeur: Brett Story
Un film sur le changement climatique, masqué par un portrait d'anxiété collective.
L'inventeur: à la recherche de sang dans la Silicon Valley
Réalisateur / scénariste: Alex Gibney
Elizabeth Holmes était autrefois le plus jeune milliardaire autodidacte au monde, annoncé comme le prochain Steve Jobs. Puis, dans la nuit, sa compagnie de 10 milliards de dollars a été dissoute. L'ascension et la chute de Theranos est une fenêtre sur la psychologie de la fraude.
Briser la maison
Réalisatrice: Rachel Lears Scénaristes: Rachel Lears, Robin Blotnick
Quatre femmes se portent candidates au Congrès, surmontant leurs adversaires personnels pour combattre des machines politiques puissantes à travers le pays. Une de leurs races changera le pays pour toujours.
Petits monstres (Australie)
Réalisateur / scénariste: Abe Forsythe
Un musicien lavé rejoint une institutrice qualifiée et une personnalité méprisable pour montrer aux enfants une leçon de jardin d'enfants par une explosion soudaine de zombies. Distribution: Lupita Nyong, Alexander England, Josh Gad
nubile (Royaume-Uni)
Réalisateur / scénariste: Alex Holmes
Dans un portrait émouvant de la résilience, Alex Holmes raconte le parcours sans précédent de Tracy Edwards, âgée de 37 ans, et de la première équipage de voile à participer à la course du yacht autour du monde à Whitbread.
La montagne
Réalisateur: Rick Alverson, scénaristes: Rick Alverson, Dustin Guy Defa, Colm O & # 39; Leary
Dans le déclin de sa carrière, un médecin réputé accompagne un jeune homme dans une tournée désespérée d'hôpitaux ruraux du milieu du siècle afin de soutenir une nouvelle procédure controversée. Acteurs: Tye Sheridan, Jeff Goldblum, Hannah Gross, Denis Lavant et Udo Kier
Pahokee
Directeurs: Ivete Lucas, Patrick Bresnan
Dans une petite ville agricole des Everglades en Floride, l'espoir pour l'avenir se concentre sur les jeunes. Quatre adolescents font face au chagrin et célèbrent lors de rituels extraordinaires pour les seniors.
Raise Hell: The Life & Times de Molly Ivins
Réalisatrice: Janice Engel, scénaristes: Janice Engel, Monique Zavistovski
Au Texas, Molly Ivins, journaliste légendaire et guerrière de la Déclaration des droits, s'est battue contre la corruption de Good Old Boy grâce à une intelligence tranchante qui a laissé les deux côtés du couloir rire et se colorer pour de l'encre. colonnes. Soulevez l'enfer!
Soeur Aimée
Réalisateurs / scénaristes: Samantha Buck, Marie Schlingmann
Après avoir simulé sa propre mort, le plus célèbre évangéliste des États-Unis se retrouve dans une folle aventure au Mexique, hanté non seulement par la police, mais aussi par sa propre personne. Acteurs: Anna Margaret Hollyman, Michael Mosley, Andrea Suarez Paz, Julie White, Amy Hargreaves, Macon Blair, Lee Eddy, Blake Delong, John Merriman et Nathan Zellner
Ceux qui suivent
Réalisateurs / scénaristes: Britt Poulton, Dan Madison Savage
Niché dans la nature sauvage des Appalaches, où les croyants gèrent les serpents qui tuent la mort pour se mettre à l'épreuve devant Dieu, Ceux qui suivent raconte l'histoire d'une fille de pasteur qui détient un secret qui menace de détruire sa communauté. Distribution: Olivia Colman, Kaitlyn Dever, Alice Englert, Jim Gaffigan, Walton Goggins, Thomas Mann, Lewis Pullman
Le weekend
Réalisatrice / scénariste: Stella Meghie
Un comédien porte les bagages de sa relation tardive au cours d'un week-end avec des amis, qui inclut son ex-petit ami et sa nouvelle petite amie. Acteurs: Sasheer Zamata, Tone Bell, Dewanda Wise, Yann Lan Noel, Kym Whitley
têtes d'affiche
La plage bum
Réalisateur / scénariste: Harmony Korine
La plage bum suit les mésaventures hilarantes de Moondog (Matthew McConaughey), un voleur rebelle qui vit toujours selon ses propres règles. Co-star avec Snoop Dogg, Zac Efron et Isla Fisher, La plage bum c'est un original rafraîchissant et subversif. Acteurs: Matthew McConaughey, Snoop Dogg, Isla Fisher, Stefania Lavie Owen, Jimmy Buffett, Zac Efron, Martin Lawrence (Première mondiale)
Booksmart
Réalisatrice: Olivia Wilde, scénaristes: Emily Halpern, Sarah Haskins, Susanna Fogel, Katie Silberman
À la veille du lycée, deux superstars du monde universitaire et leurs meilleurs amis se rendent compte qu'ils auraient dû travailler moins et jouer plus. Déterminées à ne pas rater leurs camarades, les filles se lancèrent dans une mission pour s'amuser pendant quatre ans en une nuit. Acteurs: Kaitlyn Dever, Bonnet Feldstein, Jessica Williams, Will Forte, Lisa Kudrow, Jason Sudeikis (Première mondiale)
La malédiction de La Llorona
Réalisateur: Michael Chaves, scénaristes: Mikki Daughtry, Tobias Iaconis
À Los Angeles dans les années 70, La Llorona hante la nuit … et les enfants. Ignorant l'avertissement inquiétant d'une mère en détresse, une assistante sociale est bientôt entraînée dans un royaume surnaturel terrifiant, mettant en jeu la vie et l'âme de ses enfants. Acteurs: Linda Cardellini, Raymond Cruz, Patricia Velasquez, Marisol Ramirez, Sean Patrick Thomas, Jaynee-Lynne Kinchen, Roman Christou (Première mondiale)
Bons gars
Réalisateur: Gene Stupnitsky, scénaristes: Lee Eisenberg, Gene Stupnitsky, Beth Stelling, John Phillips
Les écrivains de Très mauvais et les producteurs de Fête de la saucisse Prenez la sixième année dans Universal Pictures & # 39; Bons gars, une comédie R-rated de trois amis dans une odyssée de mauvaises décisions. Acteurs: Jacob Tremblay, Keith L. Williams, Brady midi, Molly Gordon, Midori Francis, Josh Caras (Première mondiale)
Les passeurs
Réalisateur: John Lee Hancock, scénariste: John Fusco
Le Texas Ranger Frank Hamer réfléchit à ce qui fait de lui un grand politicien alors qu'il quitte la pension pour traquer Bonnie et Clyde. Distribution: Kevin Costner, Woody Harrelson, Kathy Bates et Kim Dickinson (Première mondiale)
Cimetière pour animaux de compagnie
Réalisateurs: Kevin Kölsch et Dennis Widmyer, scénariste: Jeff Buhler
Basé sur le roman d'horreur de Stephen King. Le nouveau Cimetière pour animaux de compagnie aperçu de la bande-annonce en ligne demain! Cliquez ici pour être l'un des premiers à le voir. Liste des acteurs: Jason Clarke, Amy Seimetz, Jeté Laurence, Hugo Lavoie, Lucas Lavoie et John Lithgow
Stuber (travaux en cours)
Réalisateur: Michael Dowse, scénariste: Tripper Clancy
Lorsqu'un chauffeur d'Uber aux manières bienveillantes (Kumail Nanjiani) surprend un policier (Dave Bautista) sur les traces d'un meurtrier brutal, il est plongé dans un tourment déchirant où il doit maintenir son intelligence, sa vie et son classement à cinq étoiles. . Acteurs: Kumail Nanjiani, Dave Bautista, Iko Uwais, Natalie Morales, Betty Gilpin, Jimmy Tatro, avec Mira Sorvino et Karen Gillan
Seth Rogen / Charlize Theron Comédie
Réalisateur: Jonathan Levine, scénariste: Dan Sterling
Un diplomate ambitieux à la réputation immaculée et un journaliste qui fait la fête redéfinissent les "relations internationales" hilarantes alors qu'ils tentent de maintenir leur histoire en flammes. Acteurs: Seth Rogen, Charlize Theron, O Shea Jackson Jr., Andy Serkis, June Diane Raphael, Ravi Patel et Alexander Skarsgård (Première mondiale)
Nous
Réalisateur / scénariste: Jordan Peele
Un cauchemar original de Jordan Peele, gagnant d'un Oscar (Fermer la session), joué par Lupita Nyong & o et Winston Duke, Nous met une famille américaine moyenne contre un adversaire terrifiant: les doppelgängers d'eux-mêmes. Acteurs: Lupita Nyong et Winston Duc, Elisabeth Moss, Tim Heidecker, Yahya Abdul-Mateen II, Anna Diop, Evan Alex, Shahadi Wright-Joseph, Madison Curry et Cali Sheldon (Première mondiale)
CONCOURS NARRATIF
Alice (France)
Réalisatrice / scénariste: Josephine Mackerras
Il a tout fait correctement jusqu'à ce que tout se passe mal. Acteurs: Emilie Piponnier, Martin Swabey, Chloé Boreham (Première mondiale)
extraordinaire (Belgique)
Réalisateurs / scénaristes: Mike Ahern, Enda Loughman
Rose, instructrice de conduite dans la ville, principalement douce et principalement solitaire, doit utiliser son talent surnaturel pour sauver la fille de Martin (principalement douce et solitaire) d'une rock star épuisée qui il utilise dans un pacte satanique que sa renommée sera ravivée Distribution: Maeve Higgins, Barry Ward, Will Forte et Claudia Doherty (Première mondiale)
Retour en Chine (Chine, États-Unis)
Réalisatrice / scénariste: Emily Ting
Après que la riche fille gâtée Sasha Li (Anna Akana) ait investi la moitié de son fonds en fiducie, elle a été coupée par son père (Richard Ng) et forcée de retourner en Chine pour travailler dans l'industrie du jouet familiale. Acteurs: Anna Akana, Richard Ng, Lynn Chen, Kelly Hu, Kendy Cheung et Aviva Wang (Première mondiale)
Mickey et ours
Réalisatrice / scénariste: Annabelle Attanasio
Confronté à la responsabilité de s'occuper de son toxicomane obstiné, père d'un adolescent vétéran, Mickey Peck garde sa famille à flot. Lorsqu'il a la possibilité de partir pour toujours, il doit choisir entre l'obligation familiale et l'épanouissement personnel. Casting: Camila Morrone, James Badge Dale, Calvin Demba, Ben Rosenfield, Rebecca Henderson (Première mondiale)
Mme White Light
Réalisateur / scénariste: Paul Shoulberg
Les affaires de Lex Cordova sont en train de mourir. Il a une capacité unique à communiquer avec ses clients en phase terminale. Ce sont tous les autres avec qui il a un problème. Valérie n'est pas une connerie qui aime vivre sa vie. Sa seule issue est par Lex. Acteurs: Roberta Colindrez, John Ortiz, Judith Light, Carson Meyer, Zachary Spicer(Première mondiale)
Paille de Porc
Réalisateurs: Sam Probst, Colby Holt, Scénariste: Colby Holt
Jodie, une femme dans la trentaine, a du mal à trouver un partenaire et à avoir des enfants. Quand elle assiste à un concert de Guns Noses, elle pense avoir rencontré une rencontre potentielle – jusqu'à ce qu'elle soit immédiatement fantôme. Acteurs: Anna T. Schlegel, Tony Jaksha, Pete Zias, Michael Henry, Nate Stoner, Maxwell Esposito, Amanda De Simone, Alex Myerchin, Andrew Kudla (Première mondiale)
porno
Réalisateur: Keola Racela, scénaristes: Matt Black, Laurence Vannicelli
Lorsqu'un groupe d'enfants naïfs travaillant dans un cinéma d'une petite ville chrétienne découvre un film mystérieux caché dans le sous-sol, ils déchaînent une succulente succulente qui leur donne une éducation sexuelle … écrite dans le sang. Acteurs: Evan Daves, Larry Saperstein, Jillian Mueller, Glenn Stott, Robert Tann, Bill Phillips, Katelyn Pearce, Peter Reznikoff (Première mondiale)
Saint frances
Réalisateur: Alex Thompson, scénariste: Kelly O'Sullivan
Au début de l'été, Bridget abandonne au moment où elle décroche un emploi fort nécessaire dans l'affluent Evanston, dans l'Illinois, qui a un fils de six ans. Acteurs: Ramona Edith-Williams, Kelly O Sullivan, Lily Mojekwu, Charin Alvarez, Jim True-Frost, Max Lipchitz, Mary Beth Fisher, Francis Guinan, Bradley Grant Smith (Première mondiale)
Montagne du sud
Réalisatrice / scénariste: Hilary Brougher
Lorsque ses garçons se dirigent vers le camp et que son mari la quitte brusquement pour fonder une nouvelle famille, Lila est laissée à ses dispositifs curieux et chaotiques pour un été dans sa maison rurale dans les montagnes de Catskill. Acteurs: Talia Balsam, Scott Cohen, Andrus Nichols, Michael Oberholtzer, Naian Gonzalez, Midori Francis, Macaulee Rusnak Cassaday, Isis Masoud, Violet Rea, Guthrie Mass (Première mondiale)
Oui mon dieu
Réalisatrice / scénariste: Karen Maine
Après une conversation innocente d'AOL qui a confiance en soi, un adolescent catholique au début des années 2000 découvre qu'il se masturbe et lutte pour réprimer ses pulsions face à la damnation éternelle. Acteurs: Natalia Dyer, Timothy Simons, Wolfgang Novogratz, Francesca Reale, Susan Blackwell, Parker Wierling, Alisha Boe, Donna Lynne Champlin (Première mondiale)
REFLECTEURS NARRATIFS
Adopter une autoroute
Réalisateur / scénariste: Logan Marshall-Green
Après avoir été libéré de prison après avoir été condamné à une peine de vingt ans d'emprisonnement pour une infraction mineure, un ancien prisonnier doit apprendre à naviguer dans le monde pendant qu'il se rend compte de sa propre vie, tout en prenant soin d'un enfant abandonné situé dans une benne à ordures. Acteurs: Ethan Hawke, Elaine Hendrix, Diana Gaeta Marshall-Green, Betty Gabriel, Mo McRae, Chris Sullivan, Nate Mooney, Christopher Heyerdahl et Anne Marie Johnson. (Première mondiale)
L'art de la légitime défense
Réalisatrice / scénariste: Riley Stearns
L'art de la légitime défense joue Jesse Eisenberg et se situe dans le monde du karaté. Eisenberg joue un homme qui est attaqué dans la rue et rejoint un dojo local, dirigé par un charismatique Sensei (Nivola), pour tenter d'apprendre à se défendre. Acteurs: Jesse Eisenberg, Alessandro Nivola, Imogen Poots (Première mondiale)
Viens comme tu es
Réalisateur: Richard Wong, scénariste: Erik Linthorst
Trois jeunes handicapés s'embarquent dans une maison close à Montréal pour répondre aux besoins des personnes ayant des besoins spéciaux, afin de perdre leur virginité et d'acquérir leur indépendance. Inspiré par une histoire vraie et un remake du film belge Hasta la vista. Acteurs: Grant Rosenmeyer, Hayden Szeto, Ravi Patel, Gabourey Sidibe, Janeane Garofalo, C.S. Lee, Jennifer Jelsema, Martha Kuwahara, Delaney Feener, Philpot de vente aux enchères(Première mondiale)
Le jour viendra (Royaume-Uni, États-Unis)
Réalisateur: Chris Morris, scénaristes: Chris Morris, Jesse Armstrong
Un prédicateur appauvri qui apporte de l'espoir aux projets de Miami est offert en espèces pour sauver sa famille de l'expulsion. Il n'a aucune idée que son parrain travaille pour le FBI, mais il a l'intention de le transformer en criminel nourrissant ses rêves révolutionnaires fous. Distribution: Marchánt Davis, Anna Kendrick, Danielle Brooks, Denis O'Hare 'Hare (Première mondiale)
Frances Ferguson
Réalisateur: Bob Byington, scénariste: Scott King
La réaction d'une petite ville au scandale. Distribution: Kaley Wheless, Nick Offerman, Keith Poulson, David Krumholtz (Première mondiale)
Je suis juste avec toi
Réalisateur: Adam Mason, scénaristes: Gregg Zehenter, Scott Barkan
Un jeune homme et sa sœur endurent une nuit de plaisanteries de plus en plus effrayantes alors qu'ils passent la nuit dans un motel isolé. Distribution: Keir O'Donnell, Hayes MacArthur, Jessica McNamee (Première mondiale)
Petites aides de la mère
Réalisateur / scénariste: Kestrin Pantera
Lorsque Joy Pride, une femme brûlée de soixante-dix ans qui se consume sur le trampoline du mouvement des fleurs, apprend qu'elle a des semaines de vie, ses enfants étrangers s'unissent pour faire le bien d'une mère qui leur a toujours fait du mal. Acteurs: Laine de Breeda, Melanie Hutsell, David Giuntoli, Sam Littlefield, Kestrin Pantera (Première mondiale)
Rêves olympiques
Réalisateur: Jeremy Teicher, scénaristes: Alexi Pappas, Jeremy Teicher, Nick Kroll
Au village des athlètes des Jeux olympiques d'hiver, Pénélope (Alexi Pappas), une skieuse de fond, se lie d'amitié avec Ezra (Nick Kroll), dentiste volontaire, après une course décevante. Penelope et Ezra partagent un temps spécial mais limité ensemble. Acteurs: Nick Kroll, Alexi Pappas, Gus Kenworthy, Morgan Schild et Jamie Anderson (Première mondiale)
Le faucon au beurre d'arachide
Réalisateurs / scénaristes: Tyler Nilson, Michael Schwartz
Un jeune homme atteint du syndrome de Down s'échappe de la maison de retraite où il vit pour poursuivre son rêve de devenir un lutteur professionnel. Acteurs: Shia LaBeouf, Dakota Johnson, Zack Gottsagen, John Hawkes, Bruce Dern, l'église Thomas Haden, Jon Bernthal, Jake "Le serpent" Roberts, Mick Foley (Première mondiale)
Mur rose (Royaume-Uni)
Réalisateur / scénariste: Tom Cullen
Six scènes. Six ans. Six moments qui ont façonné la relation entre Jenna et Leon. Mur rose examine ce qui nous définit, la pression des attentes liées au genre et notre lutte perpétuelle entre la vie et l'ambition. Distribution: Tatiana Maslany, Jay Duplass (Première mondiale)
Courir cette ville (Canada)
Réalisateur / scénariste: Ricky Tollman
Un assistant politique tente de corrompre son patron exubérant et franc quand un jeune chercheur dans un journal apprend qu'un scandale pourrait faire ou défaire leur carrière. Acteurs: Ben Platt, Nina Dobrev, Mena Massoud, Damian Lewis, Jennifer Ehle, Scott Speedman (Première mondiale)
Épée de confiance
Réalisatrice: Lynn Shelton, scénaristes: Lynn Shelton, Mike O & # 39; Brien
Le propriétaire d'un prêteur sur gages et son partenaire homme-fils se joignent à un couple de la ville pour encaisser un héritage familial: une épée considérée comme un complot de la plus haute histoire est la preuve que le Sud a a remporté la guerre civile. Acteurs: Marc Maron, Jon Bass, Michaela Watkins, Jillian Bell, Toby Huss, Dan Bakkedahl, Tim Paul et Whitmer Thomas (Première mondiale)
super-vilains
Réalisateurs / scénaristes: Dan Berk, Robert Olsen
Quand un couple de criminels amateurs s'introduit dans une maison de banlieue, il tombe dans un sombre secret et deux propriétaires terriens sadiques qui feront tout pour l'empêcher de sortir. Acteurs: Bill Skarsgard, Maika Monroe, Kyra Sedgwick, Jeffrey Donovan(Première mondiale)
Le mur du mexique (États-Unis, Mexique)
Réalisateurs: Zachary Cotler, Magdalena Zyzak, scénariste: Zachary Cotler
Un jeune homme à tout faire blanc, engagé par une riche famille américano-mexicaine pour entretenir leur ranch, se retrouve coincé entre les habitants mécontents et les filles outrageusement extravagantes de la famille et découvre qu'il se passe quelque chose d'inhabituel dans le ranch. Acteurs: Jackson Rathbone, Esai Morales, Marisol Sacramento, Carmela Zumbado, Alex Meneses, Moises Arias, avec Mariel Hemingway et Xander Berkeley (Première mondiale)
CONCOURS DE CONCOURS DOCUMENTAIRE

Ernie et Joe
Directeur: Jenifer McShane
Ernie et Joe suit deux officiers de l'unité de santé mentale du département de police de San Antonio qui poussent les gens hors de prison et de traitements de santé mentale – un appel 911 à la fois. (Première mondiale)
Pour Sama (Royaume-Uni)
Directeurs: Waad al-Khateab, Edward Watts
Pour Sama raconte l'histoire épique du voyage d'une jeune femme à travers l'amour, la guerre et la maternité après cinq années de révolte à Alep, en Syrie. (Première mondiale)
Musée de la ville
Réalisatrice: Jennifer Trainer, scénaristes: Noah Bashevkin, Pola Rapaport, Jennifer Trainer
Des cendres d'une usine abandonnée, un ambitieux centre d'art contemporain a vu le jour. Avec MASS MoCA, une histoire familiale de désindustrialisation dans une ville américaine rurale trouve un chemin non conventionnel vers la reprise. (Première mondiale)
Rien de spécial: Diana Kennedy (Royaume-Uni, États-Unis)
Directeur: Elizabeth Carroll
Auteure de livres de cuisine primés, une environnementaliste irréductible et une anglaise énergique nonagénaire, Diana Kennedy évoque une vie non conventionnelle passée à dominer les cuisines du Mexique. (Première mondiale)
remplissages (Canada, États-Unis)
Directeur: Erin Derham
remplissages est un long métrage documentaire sur le monde incroyable de la taxidermie et les artistes passionnés du monde entier qui voient la vie là où d'autres ne voient que la mort. (Première mondiale)
fil
Directeur: Paul Solet
Poussé au point de rupture, un maître soudeur installé dans une petite ville au pied des montagnes Rocheuses renforce discrètement un bulldozer doté de 30 tonnes de béton et d'acier et tente de détruire ceux qu'il croit mal agi. (Première mondiale)
Portraits de vision
Réalisateur / scénariste: Rodney Evans
Un long métrage documentaire qui raconte le chemin créatif d'artistes aveugles et malvoyants, dont un photographe (John Dugdale), une danseuse (Kayla Hamilton), un écrivain (Ryan Knighton) et le réalisateur du film, Rodney Evans. (Première mondiale)
Nous sommes les monarques radicaux
Directrice: Linda Goldstein Knowlton
Rencontrez les monarques radicaux, un groupe de jeunes filles noires à la pointe de la justice sociale. Se déroulant à Oakland, le film documente le parcours du groupe au fur et à mesure de sa formation, de sa croissance et de l'obtention de badges pour des unités comme "Black Lives Matter" et "Radical Beauty" (Première mondiale).
Bien soigné
Réalisatrice / scénariste: Rebecca Stern
Bien soigné parcourt le monde humoristique et visuellement renversant du toilettage créatif pour chiens créatifs ainsi que des femmes colorées qui transforment leurs caniches bien-aimés en sculptures vivantes. (Première mondiale)
Pourquoi je ne peux pas être moi-même? Autour de toi
Réalisateurs / scénaristes: Harrod Blank, Sjoerd Dijk
Rusty, passionné de race masculine, décide de prendre le sein à l'âge de 53 ans. Son père coupe son salaire, ses amis motards le quittent ainsi que les femmes avec lesquelles toutes les dates le rejettent. Rusty poursuit sa nouvelle identité et espère seulement être accepté par les autres. (Première mondiale)
REFLECTEUR DE DOCUMENTAIRE

Aucun de nous
Directeur: Fernando Villena
À travers le parcours stimulant d'un athlète en récupération, Aucun de nous offre un regard sans précédent sur le monde traumatique des lésions de la moelle épinière. (Première mondiale)
autonomie
Directeur: Alex Horwitz
Un documentaire sur la technologie émergente des véhicules autonomes et les grandes questions qu'ils soulèvent: que sont le contrôle et qui devenons-nous lorsque nous abandonnons les voitures? (Première mondiale)
Bellingcat: la vérité dans un monde de post-vérité (Pays-Bas)
Réalisateur / scénariste: Hans Pool
Bellingcat: la vérité dans un monde de post-vérité Explorez l'univers exclusif de Bellingcat, un collectif hautement qualifié et controversé de "journalistes d'investigation citoyens" voué à la redéfinition des dernières nouvelles du 21ème siècle. (Première nord-américaine)
percée
Réalisateur / scénariste: Bill Haney
percée raconte l'histoire d'un scientifique du blues texan renégat qui a mis au point un remède contre la maladie la plus mortelle au monde. Rapporté par Woody Harrelson avec une bande son country blues. (Première mondiale)
Construire le rêve américain
Directeur: Chelsea Hernandez
Au Texas, les travailleurs de la construction font face aux conditions les plus meurtrières du pays. Construire le rêve américain Suit trois familles immigrantes qui se battent pour la justice et l'égalité dans une industrie d'exploitation. (Première mondiale)
La communauté d'abord, un foyer pour les sans-abri
Directeur: Layton Blaylock
La communauté d'abord, un foyer pour les sans-abri, est un documentaire sur un concept totalement unique pour atténuer le sans-abrisme. Conçu et créé à Austin, Texas, Community First! Village transforme vraiment la vie des sans-abri. (Première mondiale)
Nature humaine
Réalisateur: Adam Bolt, scénaristes: Adam Bolt, Regina Sobel
Une découverte scientifique unique appelée CRISPR nous donne le pouvoir de changer ce que signifie être humain. C'est maintenant à nous de décider jusqu'où nous devrions aller. (Première mondiale)
Je suis Richard Pryor
Réalisateur / scénariste: Jesse James Miller
Je suis Richard Pryor raconte la vie du légendaire interprète social emblématique et satirique, qui a surmonté les barrières sociales et raciales en livrant son humour honnête et irrévérencieux dans les couloirs et les salons américains jusqu'à sa mort, à l'âge de 65 ans. (Première mondiale)
Je t'aime, maintenant tu meurs: le Commonwealth vs. Michelle Carter
Directeur: Erin Lee Carr
Les actions de l'adolescente Michelle Carter ont choqué une nation – mais que s'est-il réellement passé à huis clos? Cette émission spéciale HBO montre le point de vue de l'accusation et, alternativement, celui de la défense. De quel côté tombe-t-il? (Première mondiale)
Ça a commencé comme une blague
Directeurs: Julie Smith Clem, Ken Druckerman
Ça a commencé comme une blague documenta la corsa decennale dell'Eugene Mirman Comedy Festival. Il film celebra l'eccezionale umorismo di Eugene e ci ricorda le proprietà curative della commedia, anche nelle circostanze più difficili della vita. (Prima mondiale)
Tiro in sospensione
Regista: Jacob Ryan Hamilton
Tiro in sospensione scopre la vera storia ispiratrice di Kenny Sailors, lo sviluppatore del salto moderno nel basket, e di come ha definito il gioco, ma perché il gioco non lo ha mai definito. (Prima mondiale)
Kathy Griffin: A Hell of a Story
Regista: Troy Miller, sceneggiatore: Kathy Griffin
Nel suo primo film comico, il comico Kathy Griffin racconta le conseguenze del lavoro perduto ed è stato oggetto di un'indagine federale in seguito alla pubblicazione della sua foto ormai infame che raffigura il presidente Donald J Trump. (Prima mondiale)
Qualificato
Regista: Jenna Ricker
Nel mondo degli sport motoristici, la Indianapolis 500 è stata a lungo considerata l'unica gara. Nel maggio del 1977, Janet Guthrie – la prima donna a provare Indy – si guadagnò un posto nel prestigioso campo di 33. (World Premiere)
cane rosso
Registi: Casey Pinkston, Luke Dick
Nei primi anni '80, l'unica famiglia che Luke conosceva erano gli spogliarellisti, i buttafuori e gli emarginati che rendevano la loro discoteca più rumorosa di OKC. (Prima mondiale)
Il fiume e il muro
Regista: Ben Masters
Cinque amici si avventurano nelle terre sconosciute delle terre di confine del Texas per documentare l'ambiente prima che venga costruito un muro. Mentre la natura selvaggia lascia il posto alla vivace valle del Rio Grande, incontrano l'inaspettato ed entrano in acque inesplorate. (Prima mondiale)
In esecuzione con Beto
Regista: David Modigliani
Segui Beto O'Rourke dietro le quinte della sua campagna separatista per spodestare Ted Cruz nel Senato degli Stati Uniti. Con un accesso intimo al candidato, alla sua famiglia e alla sua squadra, il film cattura l'ascesa di Beto da un virtuale sconosciuto a una sensazione politica nazionale. (Prima mondiale)
sauver
Regista: Amy C. Elliott
La discarica di Yellowknife e la sua enorme area di salvataggio senza restrizioni hanno a lungo svolto un ruolo centrale nella vita civica e sociale della remota città canadese. Può un gruppo colorato di parsimoniosi locali salvarlo dai burocrati della città determinati a chiuderlo? (Prima mondiale)
Stato di orgoglio
Regista / sceneggiatore: Rob Epstein, Jeffrey Friedman
Fifty years after the Stonewall uprising, Oscar winning filmmakers Rob Epstein and Jeffrey Friedman travel to three diverse communities – Salt Lake City, San Francisco, and Tuscaloosa, Alabama – for an unflinching look at LGBTQ Pride. (World Premiere)
Sunset over Mulholland Drive (Germany)
Director: Uli Gaulke, Screenwriters: Uli Gaulke, Marc Pitzke
The vital power of creativity — a behind the scenes look into Hollywood's retirement home. (North American Premiere)
24 BEATS PER SECOND

Amazônia Groove
Director/Screenwriter: Bruno Murtinho
Leaving Belem and crossing much of the Para State Amazon region, its towns and riverside villages, Amazônia Groove reveals artists and their traditions, faith and mysticism, music and life that pound in the northern region of Brazil. (North American Premiere)
Bluebird
Director: Brian Loschiavo
Discover the origin stories of megastars like Garth Brooks and Taylor Swift while following emerging singer-songwriters as they chase their dreams inside The Bluebird Cafe, Nashville's accidental landmark that has altered the course of music history. (World Premiere)
The Boy Band Con: The Lou Pearlman Story
Director: Aaron Kunkel
The Boy Band Con: The Lou Pearlman Story charts the life and crimes of boy band impresario Lou Pearlman. The film tracks his life from discovering NSYNC and Backstreet Boys, to his perpetration of one of the largest ponzi schemes in US history. (World Premiere)
Boy Howdy! The Story of CREEM Magazine
Director: Scott Crawford, Screenwriters: Scott Crawford, Jaan Uhelszki
Ripping back the curtain on legendary rock rag CREEM Magazine's wild and disruptive newsroom; a dysfunctional band of unruly outsiders who weren't all that different from the artists they covered. (World Premiere)
Brainiac: Transmissions After Zero
Director: Eric Mahoney
The film explores the seminal 90's band Brainiac from Dayton, OH and its creative force Tim Taylor. Just days before signing a major record contract Taylor was killed in a bizarre auto accident leaving his family and bandmates to pick up the pieces. (World Premiere)
Carmine Street Guitars (Canada)
Director: Ron Mann, Screenwriter: Len Blum
Five Days in the life of Greenwich Village guitar shop Carmine Street Guitars.
The Chills: The Triumph and Tragedy of Martin Phillipps (New Zealand)
Director: Julia Parnell, Rob Curry
New Zealand music genius Martin Phillipps fights his creative demons, conquers the music world, inspires a generation, and then retreats into depression, addiction and anonymity. (World Premiere)
David Crosby: Remember My Name
Director: A.J. Eaton
David Crosby reflects on his life of music stardom, while forging new paths to relevancy at his age of 77 in this deeply personal documentary. (World Premiere)
Everybody's Everything
Directors: Sebastian Jones, Ramez Silyan
Everybody's Everything is the story of artist Lil Peep (Gustav Ahr) from his birth in Long Island and meteoric rise as a genre blending pop star & style icon, to his death due to an accidental opioid overdose in Arizona at just 21 years of age. (World Premiere)
The Gift: The Journey of Johnny Cash
Director: Thom Zimny, Screenwriter: Warren Zanes
Johnny Cash stands among the giants of 20th century American life. But his story remains tangled in mystery and myth. This documentary brings Cash the man out from behind the legend. (World Premiere)
Iris: A Space Opera by Justice (France)
Directors: Andre Chemetoff, Armand Beraud
Iris is a film adaptation of Justice's Woman World Wide live show from 2017-2018, which is widely regarded as the greatest live electronic concert created. Recorded in an empty and invisible space, Iris focuses on the impressive production and music. (World Premiere)
Mr. Jimmy
Director: Peter Michael Dowd
Dowd Akio Sakurai has dedicated his life to honoring Jimmy Page. For 30 years he recreated vintage Zeppelin concerts note-for-note in small Tokyo clubs. Moving to L.A. to pursue his tribute dream, cultures clash and Akio's idyllic vision meets reality. (World Premiere)
Nothing Stays The Same: The Story of The Saxon Pub
Director: Jeff Sandmann, Screenwriters: Jeff Sandmann, Jeffrey Brown, Lisa Kay Pfannenstiel
Nothing Stays the Same celebrates the last 30 years of live music in Austin, while also examining the challenges faced by musicians and music venues in one of the fastest-growing cities in the country, all through the lens of the legendary Saxon Pub. (World Premiere)
Show Me The Picture: The Story of Jim Marshall (United Kingdom)
Director: Alfred George Bailey
Jim Marshall was a maverick with a camera. An outsider who captured the heights of Rock'N'Roll music and the seismic changes of an era, from the Beatles and Jimi Hendrix, to the civil rights movements and some of the most iconic moments of the 60's. (World Premiere)
Strange Negotiations
Director: Brandon Vedder
A documentary exploring the existential, artistic and family life of musician and former evangelical, David Bazan (Pedro The Lion), set against America's own crisis of faith highlighted during the 2016 presidential election. (World Premiere)
Teen Spirit (United Kingdom)
Director/Screenwriter: Max Minghella
The film follows Violet, a shy teenager who enters an international singing competition with the help of an unlikely mentor. Driven by a pop-fueled soundtrack, Teen Spirit is a visceral and stylish spin on the Cinderella story. Cast: Elle Fanning, Zlatko Buricteent, Rebecca Hall (U.S. Premiere)
Who Let The Dogs Out (Canada)
Director: Brent Hodge, Screenwriters: Brent Hodge, John Diemer, Jasleen Kaur<
The origin story of the smash hit "Who Let the Dogs Out" goes back further than anyone could have imagined; steeped in legal battles, female empowerment and artist integrity, which beckons the question: will we ever know who let the dogs out? (World Premiere)
Wild Rose (United Kingdom)
Director: Tom Harper, Screenwriter: Nicole Taylor
A musician from Glasgow dreams of becoming a Nashville star. Cast: Jessie Buckley, Julie Walters, Sophie Okonedo (U.S. Premiere)
VISIONS
Becoming Leslie
Director: Tracy Frazier, Screenwriters: Sandra Guardado, Tracy Frazier
Becoming LESLIE reveals the inner and bizarre world of Leslie Cochran, a cross-dressing homeless misfit who became the most iconic and unlikely civic symbol of Austin, Texas. (World Premiere)
The Garden Left Behind
Director: Flavio Alves, Screenwriters: John Rotondo, Flavio Alves
A Mexican trans woman struggles to build a life for herself as an undocumented immigrant in New York City. Cast: Michael Madsen, Ed Asner, Carlie Guevara, Danny Flaherty, Alex Kruz, Anthony Abdo, Dawn Young, Tamara M. Williams, Miriam Cruz, Brock Yurich (World Premiere)
J.R. "Bob" Dobbs and The Church of the SubGenius
Director: Sandy K Boone, Screenwriters: Sandy K Boone, Jason Wehling
This film explores the underground movement that has galvanized the imaginative, the artistic, the nerdy, even the deranged – to examine the simmering dystopia in their culture, and do absolutely nothing about it… except, maybe, poke fun at it all. (World Premiere)
Jezebel
Director/Screenwriter: Numa Perrier
A true story. In the last days of her mother's life, 19-year-old Tiffany crashes with five family members in a Las Vegas studio apartment. In order to make ends meet, her sister, a phone sex operator, introduces her to the world of fetish cam girls. Cast: Tiffany Tenille, Numa Perrier, Stephen Barrington, Bobby Field, Brett Gelman, Rockwelle Dortch, Zoe Tyson, Dennis Jaffee, Jessa Zarubica (World Premiere)
Leave the Bus Through the Broken Window (Hong Kong, U.S.)
Director: Andrew Hevia
A broken-hearted filmmaker navigates an unfamiliar city, an international art fair and his personal baggage in this intimate, playful and unexpectedly comedic documentary. (World Premiere)
One Man Dies a Million Times (Belarus)
Director/Screenwriter: Jessica Oreck
Set in the future, a story about seeds and genetic diversity, about growth and decay, about love and war, and about hunger of all kinds. Cast: Alyssa Lozovskaya, Maksim Blinov (World Premiere)
Red 11
Director: Robert Rodriguez, Screenwriters: Robert Rodriguez, Racer Rodriguez
Rob, an independent filmmaker, loses his investor's money only to find out his investors are the Cartel. He checks himself into a medical research facility to pay off his debt, but quickly realizes it won't be that easy. Cast: Roby Attal, Lauren Hatfield, Carlos Gallardo, Alejandro Rose Garcia, Rebel Rodriguez, Racer Rodriguez, Eman Esfandi, Steven Brudniak, Brently Heilbron, Pierce Foster Bailey (World Premiere)
Romantic Comedy (United Kingdom)
Director: Elizabeth Sankey
Musician and writer Elizabeth Sankey investigates the past, present and future of romantic comedies, assisted by a chorus of critics, actors and filmmakers. (World Premiere)
Sakawa (Belgium, Netherlands)
Director/Screenwriter: Ben Asamoah
What human story lies behind the phenomenon of 'internet fraud'? en Sakawa we meet three Ghanaian youngsters who, out of desperation, turn to internet scamming with the help of black magic. (North American Premiere)
Tito (Canada)
Director/Screenwriter: Grace Glowicki
A desperate man seeks refuge from the predators hunting him by befriending a cheerful intruder. Cast: Grace Glowicki, Ben Petrie (World Premiere)
EPISODIC PREMIERES
David Makes Man
Showrunner: Dee Harris-Lawrence, Screenwriter: Tarell Alvin McCraney
A richly layered, deeply personal work about a 14-year-old prodigy from the projects who is haunted by the death of his closest friend. Set in South Florida, the series is inspired by events in McCraney's own life, exploring childhood trauma and the power of imagination. Cast: Akili McDowell, Nathaniel McIntyre, Isaiah Johnson, Ade Chike Torbert, Cayden Williams, Jordan Bolger, Travis Coles, Phylicia Rashad, Alana Arenas (World Premiere)
NOS4A2
Showrunner/Screenwriter: Jami O'Brien
NOS4A2 introduces Vic, a young woman who has a supernatural ability to find lost things. This ability puts her on a collision course with the evil and immortal Charlie Manx, a supernatural villain who feeds off the souls of children. Cast List: Zachary Quinto, Ashleigh Cummings, Jahkara J. Smith, Olafur Olafsson, Virginia Kull, Ebon Moss-Bachrach (World Premiere)
Ramy
Showrunner: Bridget Bedard, Screenwriter: Ramy Youssef
Ramy, a first generation American Muslim on a spiritual journey, explores the challenges of being caught in between an Egyptian community that thinks life is moral a test, and a millennial generation that thinks life has no consequences. Cast: Ramy Youssef, Mohammed Amer, Hiam Abbass, Amr Waked, May Calamawy, David Merheje, Laith Nakli, Steve Way (World Premiere)
stridulo
Showrunner: Alexandra Rushfield, Screenwriters: Alexandra Rushfield, Lindy West and Aidy Bryant
From Executive Producers Lorne Michaels and Elizabeth Banks comes stridulo, a comedy series starring Aidy Bryant (Saturday Night Live) as Annie, a fat young woman who wants to change her life — but not her body. Annie is trying to start her career while juggling bad boyfriends, a sick parent, and a perfectionist boss. Cast: Aidy Bryant, Lolly Adefope, Luka Jones, Ian Owens, John Cameron Mitchell (World Premiere)
What We Do in the Shadows
Showrunners: Jemaine Clement, Paul Simms, Screenplay: Jemaine Clement
Based on the feature film of the same name from Jemaine Clement and Taika Waititi, FX's new comedy What We Do in the Shadows follows vampire roommates who have lived together for hundreds and hundreds of years. Cast: Matt Berry, Kayvan Novak, Natasia Demetriou, Harvey Guillén, Mark Proksch (World Premiere)
SPECIAL EVENTS

Broad City Finale Screening
Created by, written by and starring Abbi Jacobson and Ilana Glazer, the critically acclaimed Broad City follows Abbi and Ilana as they navigate life in New York, capturing their hookups, relationships, crappy jobs, and, ultimately, their badass friendship. In the final season, Ilana starts her own business and learns about her ancestors, while Abbi turns 30 and…tries to pull off a hat. And finally, we say goodbye to Abbi, Ilana and this iconic series. Join Abbi and IIana for a special sneak screening of the final three episodes of the series. Cast: Abbi Jacobson, Ilana Glazer, Arturo Castro, John Gemberling, Hannibal Buress, Paul W. Downs, Susie Essman.
Cobra Kai Season 2 Outdoor Screening
We are proud to present a special screening of the second season of Cobra Kai, the hit YouTube Premium Original Series, starring Ralph Macchio and William Zabka. Exclusively premiering at SXSW, YouTube and Sony Pictures Television will screen the first two episodes of the second season followed by a Q&A panel with series stars Ralph Macchio (Daniel LaRusso), William Zabka (Johnny Lawrence) and Martin Kove (Kreese) along with the Cobra Kai series creators and executive producers Josh Heald, Jon Hurwitz and Hayden Schlossberg.
Good Omens: The Nice and Accurate SXSW Event
Showrunner and best-selling author Neil Gaiman is joined by director Douglas Mackinnon and cast including Michael Sheen, David Tennant, e Jon Hamm to give attendees the most in-depth look at Good Omens to date and watch never-before-seen exclusive clips from the entire series. The six-episode series coming to Amazon Prime Video is based on the beloved satirical novel Good Omens: The Nice and Accurate Prophecies of Agnes Nutter, Witch by Terry Pratchett and Neil Gaiman. Good Omens is a dark, comedic story set in modern-day Britain that centers on a fussy angel Aziraphale (played by Sheen) and the loose-living demon Crowley (played by Tennant) as they join forces to prevent the coming of the Apocalypse.
How Rednecks Saved Hollywood with Joe Bob Briggs
Director/Screenwriter: Joe Bob Briggs
America's drive-in movie critic uses 200 video clips and photos to tell the 500-year history of the American redneck in a multimedia comedy performance.
Love, Death & Robots
Showrunners: David Fincher, Tim Miller, Josh Donen, Jennifer Miller
Love, Death & Robots, an animated anthology series presented by Tim Miller and David Fincher, is a genre orgy of Not-Suitable-For-Mainstream shorts. (World Premiere)
Followed by extended Q&A with with Tim Miller and David Fincher.
Ra: Path of the Sun God
Director: Lesley Keen
Austin based electronic and experimental label Holodeck Records is partnering with Austin Film Society for a special live re-score screening of the 1990 animated film Ra: Path of the Sun God, a beautiful re-telling of one of Ancient Egypt's most famous myths.
Rebel Without A Crew: Filmmaking Master Class with Robert Rodriguez
Join Robert Rodriguez as he gives a master-class in micro-budget guerilla filmmaking, featuring behind the scenes moments from his new $7,000 film, RED 11. The event will be followed by the World Premiere of RED 11.
Shangri-La ( Work-in-Progress)
Directors: Morgan Neville, Jeff Malmberg
An intimate look at the creative process through the lens of legendary music producer Rick Rubin.
True Stories
Director: David Byrne, Screenwriters: Stephen Tobolowsky, Beth Henley, David Byrne
David Byrne's 1986 musical comedy, inspired by theater director Robert Wilson, tabloid newspapers, and filmmakers Robert Altman and Federico Fellini, remains a unique artistic vision that celebrates the singular citizens of a fictional Texas town. David Byrne will appear in-person for Q&A following screening of new 4K restoration.
GLOBAL
Aleksi (Serbia)
Director/Screenwriter: Barbara Vekarić
A character piece about funny and troubled girl in her 20s, forced to move back in with her overbearing family. Cast: Tihana Lazović, Goran Marković, Sebastian Cavazza, Nataša Janjić, Jason Mann, Aljoša Vučović, Neda Arnerić, Leon Lučev(North American Premiere)
Aurora (Finland)
Director/Screenwriter: Miia Tervo
Aurora, a commitment-phobic party animal, meets Iranian Amir one night at a hot-dog stand in Lapland. Amir is running from death and Aurora is running from love. They need each other in order to finally stop running. Cast: Mimosa Willamo, Amir Escandari, Oona Airola, Hannu-Pekka Björkman, Miitta Sorvali (North American Premiere)
Being Impossible (Venezuela, Bolivarian Republic of)
Director: Patricia Ortega, Screenwriters: Patricia Ortega, Enmanuel Chávez
A young woman discovers she was submitted to several surgeries to correct her intersexual body as a baby. She has to find her own self outside gender binaries. (North American Premiere)
Cachada: The Opportunity (El Salvador)
Director/Screenwriter: Marlén Viñayo<
Five Salvadoran saleswomen want to take their cruel life stories to the stage. During the rehearsal process of their play, they'll discover themselves as victims and victimizers in a cycle of violence that has plagued their families for generations. (World Premiere)
Days of the Whale (Colombia)
Director/Screenwriter: Catalina Arroyave Restrepo
Two young graffiti artists of Medellín defy a criminal gang when they decide to paint the mural of a whale over a threat written in a wall. Cast: Laura Tobón, David Escallón, Carlos Fonnegra, Christian Tappan, Julián Giraldo, Natalia Castaño, Margarita Restrepo (World Premiere)
La Mala Noche (Ecuador, Mexico)
Director/Screenwriter: Gabriela Calvache
She is the perfect woman until she decides to be free. Cast: Nöelle Schönwald, Cristian Mercado, Jaime Tamariz, Ariana Freire (World Premiere)
Vai (New Zealand)
Directors: Nicole Whippy, 'Ofa-Ki-Levuka Guttenbeil-Likiliki, Matasila Freshwater, Amberley Jo Aumua, Mīria George, Marina Alofagia McCartney, Dianna Fuemana, Becs Arahanga
Vai is a portmanteau feature film by nine Polynesian directors and filmed on seven different pacific islands. It is about the journey of empowerment through culture, over the lifetime of one woman, Vai. (World Premiere)
X&Y (Denmark, Sweden)
Director: Anna Odell, Screenwriters: Anna Odell, Jakob Beckman
Swedish director and visual artist, Anna Odell (The Reunion), conducts a social experiment in which she aims to challenge the gender roles that men and women have in the society of today. Cast: Anna Odell, Mikael Persbrandt, Trine Dyrholm, Vera Vitali, Shanti Roney, Sofie Gråbøl, Jens Albinus, Thure Lindhardt (North American Premiere)
SHORTS PROGRAM
NARRATIVE SHORTS

Bodega
Director/Screenwriter: Rebecca Halfon
A Syrian deli owner and two teen girls with a fake ID find common ground on one winter night in Brooklyn. (World Premiere)
Framework (Switzerland)
Director: Jasmin Gordon, Screenwriter: Julien Bouissoux
It's summertime in rural France. A charismatic stranger happens upon three teenage boys. He has a gun in his car. Are they ready to go for a ride? (North American Premiere)
Fuck You (Sweden)
Director/Screenwriter: Anette Sidor
Alice is together with Johannes but she doesn't have enough space to be herself. On a night out with friends, she steals a strap-on and challenges her boyfriend's thoughts about girls.
Heroines
Director: Katia Badalian, Screenwriters: Sara Bower, Katia Badalian
A young girl with blooming awareness, Nina, interacts with her crass neighbor who explains the tangled world of intimacy and love. Drawing on her own experiences, Nina understands more than she thought.
Incel
Director/Screenwriter: John Merizalde
After countless failed attempts at finding love, a reclusive young man turns to an anonymous community of the "involuntarily celibate" for help, but instead finds himself increasingly pushed towards extremism.
The Jog
Director/Screenwriter: Joseph Lee Anderson
A man gets the news of a lifetime, but his morning jog doesn't go as planned. (World Premiere)
Lavender
Director/Screenwriter: Matthew Puccini
A young gay man grows increasingly entangled in the marriage of an older couple.
Liberty
Director/Screenwriter: Faren Humes
Alex and Milagros deal with great life upheaval as they prepare to dance at their community's redevelopment groundbreaking ceremony. (World Premiere)
Little Grey Bubbles (Canada)
Director/Screenwriter: Charles Wahl
Devastated by her best friend's death, Kim travels from NYC to Canada to attend his funeral. There she meets his family and friends and awkwardly tries to explain how she had never met him in person because their friendship was exclusively online. (North American Premiere)
Lockdown
Directors/Screenwriters: Celine Held, Logan George
Struggling with feelings for her best friend, 14 year-old Marie stages an almost perfect plan.
Manila is Full of Men Named Boy
Director: Andrew Stephen Lee, Screenwriters: Andrew Stephen Lee, Neda Jebelli, Emre Gulcan
An estranged son buys a child that can drink and smoke to impress his father. However, when the patriarch embraces his new grandson as the favorite, what determines who is more valuable of attention? (U.S. Premiere)
May
Director/Screenwriter: Julian Turner
A weary white French professor and a young black drug dealer share an impalpable connection on a single night in Philadelphia. (World Premiere)
Milton
Director/Screenwriter: Tim Wilkime
A guy makes a bad first impression when he meets his girlfriend's family as they gather at her grandfather's deathbed. (World Premiere)
Nice Talking to You
Director: Saim Sadiq, Screenwriters: Saim Sadiq, Joseph Capotorto
Two strangers form a silent bond in the world's loudest city. (World Premiere)
The Orphan (Brazil)
Director/Screenwriter: Carolina Markowicz
Jonathas has been adopted but then returned due to his 'different' way. Inspired by true events.
Outdooring
Director/Screenwriter: Maxwell Addae
A young man attends his new nephew's baby naming ceremony with a plan to steal the money collected from family and friends to run away and keep a deep secret hidden from them. (World Premiere)
Snare (Australia)
Director: Madeleine Gottlieb, Screenwriters: Madeleine Gottlieb, James Fraser
It's 1997. Distorted guitars rule the world. In an ageing Chinese restaurant, a father and his punk-rock son struggle with their familial roles as they realise they each desperately need something from one other. (World Premiere)
Something Like Loneliness
Directors: Seth Epstein, Ben Epstein, Screenwriters; Seth Epstein, Ryan Dowler
Upstairs-downstairs neighbors barter sounds captured in food storage containers. With the sounds come fragments of past relationships and the hopes and disappointments that remain. (World Premiere)
Stepdaddy
Director: Lisa Steen, Screenwriter: Anna Greenfield
Two estranged friends rediscover their profound incompatibility over dinner, only to learn that the one thing they share might force them together, forever. (World Premiere)
Sundays
Director/Screenwriter: José Andrés Cardona
Jonny teaches Tommy how to drive.
Virgins4Lyfe (Norway)
Director: Thea Hvistendahl, Screenwriters: Sofia Lersol Lund, Thea Hvistendahl
The friendship of two Norwegian girls are put to the test. While one holiday in Southern Europe they both want to explore their own sexuality, but only one of them seem to succeed. (North American Premiere)
Washed Away
Director/Screenwriter: Ben Kallam
A teenage girl in an evangelical church youth group must deal with the fallout when her trust is publicly betrayed. (World Premiere)
Youth (Egypt)
Director/Screenwriter: Farida Zahran
A teenage girl takes a step toward adulthood in contemporary Cairo. (World Premiere)
DOCUMENTARY SHORTS

Tutto incluso (Switzerland)
Director/Screenwriter: Corina Schwingruber Ilić
Under the spell of mass entertainment on the high seas.
Anas v. the Giant
Director: Adrienne Collatos
What happens when an 18-year-old who thought he had nothing more to lose, becomes embroiled in fake news on Facebook? (World Premiere)
Exit 12
Director: Mohammad Gorjestani
After two tours in Fallujah in the Iraq war, US Marine Roman Baca came home a different person. To deal with the effects of war, Roman turned to an unlikely place, ballet.
Ghosts of Sugar Land
Director: Bassam TariqIn
Sugar Land, Texas, a group of young Muslim-American men ponder the disappearance of their friend "Mark," who is suspected of joining ISIS.
Guns Found Here
Director: David Freid
A surprisingly non-fictional tragicomedy about how America traces a gun involved in a gun crime back to its owner.
In the Dark
Director: Jessie King
Reading isn't natural. It's a struggle for each of us to master, but those with dyslexia fight to read their entire lives. In the Dark is about performance, persistence and Phyllis, a woman in Austin, Texas, who says she can reverse dyslexia. (World Premiere)
Life in Miniature (United Kingdom)
Director: Ellen Evans
A celebration of one woman's mission to document the everyday, as she carves a place for herself in the precious world of miniatures.
Lowland Kids
Director: Sandra Winther
As climate change erases the Louisiana coast, the last two teenagers on Isle de Jean Charles fight to stay on an island that's been their family home for generations. (World Premiere)
The Separated
Director: Jeremy Raff
An unflinching look at one family's experience being forcibly separated at the U.S.-Mexico border.
Trans In America: Texas Strong (United Kingdom, U.S.)
Director: Daresha Kyi
An intimate portrait of Kimberly and Kai Shappley in Texas: a Christian mother rejects her community's beliefs as her 7-year-old transgender daughter navigates life at school, where she's been banned from the girls' bathroom.
The Trial (United Kingdom, U.S.)
Director: Johanna Hamilton
Meet the lawyers tasked with defending 9/11 suspects against the U.S. government.
ANIMATED SHORTS COMPETITION

The Coin
Director/Screenwriter: Siqi Song
In Chinese New Year holidays, finding the coin inside the dumplings means having a blessed year ahead. A young woman loses a jar on her journey to a new country, which contains the lucky coins she has been collecting growing up. Her new life begins with a search to find the coin. (World Premiere)
Facing It (United Kingdom)
Director: Sam Gainsborough, Screenwriters: Sam Gainsborough, Louisa Wood
As Sean anxiously awaits a meeting in the local pub, he is forced to explore his own unhappy memories and relationships in an evening that will that will leave him changed forever. (U.S. Premiere)
Guaxuma (Brazil)
Director/Screenwriter: Nara Normande
Tayra and I grew up on a beach in the north east of Brazil. We were inseparable. The sea breeze brings me back happy memories.
Je sors acheter des cigarettes (France)
Director: Osman Cerfon
Jonathan, twelve years old, lives with his sister, his mother and also some men. They all have the same face and nest in closets, drawers, TV set… (North American Premiere)
Las Del Diente
Director/Screenwriter: Ana Perez Lopez
Three women discuss the social pressure of having kids while celebrating the uniqueness of their bodies during flamenco covens.
Obon (Germany)
Directors: André Hörmann, Samo (Anna Bergmann), Screenwriter: André Hörmann
Akiko Takakura survived the atomic bombing of Hiroshima – in the midst of total destruction she finds a moment of happiness.
Reneepoptosis
Director: Renee Zhan
Three Renees go on a quest to find God, who is also Renee. As they traverse the great mountains and valleys of Renee, they discover all the joys, mysteries, and sadnesses of being Renee.
Skybaby
Director: Julian Glander
Look at clouds. You're 12.
Slug Life (United Kingdom)
Director/Screenwriter: Sophie Koko Gate
Tanya has finally created the perfect sexual partner, who happens to be a beautiful giant slug. (North American Premiere)
Wild Love (France)
Directors: Paul Autric, Quentin Camus, Maryka Laudet, Léa Georges, Zoé Sottiaux, Corentin Yvergniauz
Alan and Beverly, away hiking on a romantic getaway, cause the death of a marmot without noticing it. But this incident will not stay unpunished… (U.S. Premiere)
MIDNIGHT SHORTS

La Bête (France)
Director/Screenwriter: Filippo Meneghetti
A village far away in time and land. Nearby, in a forest thought to be haunted, a child falls into a pit. His grandfather, an old and nearly blind shepherd, tries to convince the villagers to go rescue him, facing the darkness of the night and their. (World Premiere)
Bronzed
Director/Screenwriter: Mike Egan
Neo-sun worshiper Martin prepares to appease the solar Gods with ritual human sacrifice. But first he needs a spray tan. (World Premiere)
Deep Tissue
Director/Screenwriter: Meredith Alloway
A girl orders a special massage. (World Premiere)
The Do It Up Date
Directors: Emily Ting, Andrew Barchilon, Screenwriter: Josh Fadem
Kip and Shayla go on a big date! (World Premiere)
First Kiss
Director/Screenwriter: Emily Hagins
When two anxious teens sneak away from a Halloween party to share their first kiss, they soon realize someone…or something…may be watching them.
How To Be Alone
Director/Screenwriter: Kate Trefry
One woman's simple, three-step guide to surviving a night on your own. (World Premiere)
It's Not Custard (United Kingdom)
Director/Screenwriter: Kate McCoid
Louise, a teenager suffering unrelenting acne and continual bullying, is granted a delicious revenge. (U.S. Premiere)
Montana, GA
Director/Screenwriter: Ryan Dickie
In the middle of nowhere, three best friends grow closer when a chill vacation weekend turns supernatural. (World Premiere)
Other Side of the Box
Director: Caleb J. Phillips, Screenwriters; Caleb J. Phillips, Nick Tag
A couple receives a terrifying gift from an old friend. (U.S. Premiere)
Right Place, Wrong Tim (United Kingdom)
Director/Screenwriter: Eros Vlahos
England's 2nd most popular sitcom 'Right Place, Wrong Tim' is besieged by bloodthirsty killer clones live on air. Starring Asa Butterfield, Ella Purnell & Adam Buxton.
The Video Store Commercial (Canada)
Directors: Cody Kennedy, Tim Rutherford, Screenwriter: Tim Rutherford
A desperate video store owner hires a crew to shoot a commercial in his shop. (World Premiere)
TEXAS SHORTS

Chicle (Gum)
Director: Lizette Barrera, Screenwriters: Lizette Barrera, Renier Murillo, Vittoria Rodriguez, Katy Atkinson, Elyssa Chapa
An ill-tempered teenager attempts to find peaceful solitude on the day of her grandfather's passing until an estranged friend pays her a visit. (World Premiere)
A Good Son
Director/Screenwriter: Suzanne Weinert
When Tommy, 75, asks his son Mike to put a Hefty bag over his head and suffocate him to death, neither believes the other will really go through with it. Until MIke's son Chris, 17, devises a plan that will satisfy both his father and grandfather. (World Premiere)
I Am Mackenzie
Director: Artemis Anastasiadou, Screenwriter: Brittany Worthington
Caught among toxic masculinity, a sequin dress and a teenage crush, a teen skater, growing up in rural Texas, will have sex for the first time in the back of their dad's truck. (World Premiere)
A Line Birds Cannot See
Director: Amy Bench
Separated from her mother at the border, a determined 12-year-old sets out across the desert with only a plastic sack, survives starvation on the streets of Ciudad Juarez, and escapes kidnappers to find her mother and a place where they can be safe. (World Premiere)
Mack Wrestles
Directors: Erin Sanger, Taylor Hess
Mack Beggs broke records and changed history when he won the Texas state title as a transgender wrestler. Now with high school ending and college on the horizon, the sports champion and national activist, must grapple with what comes next. (World Premiere)
Sweet Steel
Director/Screenwriter: Will Goss
A depressed man puts off an important task. (World Premiere)
Sweet Sweet Kink: A Collection of BDSM Stories
Director: Maggie M. Bailey
Sweet Sweet Kink takes a sweet, sweet peek into the kinky world of bondage, dominance, and sadomasochism through stories of intimate connection, consensual exploration, and deep self-reflection. (World Premiere)
Yirga
Director/Screenwriter: B.B. Araya
Before she can leave town for a fresh start, Yirga must get one problem out of her head. (World Premiere)
TEXAS HIGH SCHOOL SHORTS

Abby
Directors: Tyniya Perryman, Brenna Rinehart, Screenwriter: Tyniya Perryman
Being a kid can be a little lonely sometimes, but this young girl has her best friend, Abby. (World Premiere)
Astray
Director: Mystery Clemons, Screenwriters: Mystery Clemons, Shannon Angeletti
A young man stumbles upon an unexpected situation finding one in need. The two build upon their friendship after the young man helps with his situation. After the young man realizes his friend is a bad influence he gets caught up in his past. (World Premiere)
BlueInk
Directors: Miranda Potter, Jade Jess, Screenwriter: Jade Jess
A victim of human trafficking tells her story. (U.S. Premiere)
By the Pool
Director/Screenwriter: Neo Bramlett
A high school student tells his friend about an awkward experience he had. (World Premiere)
Double Cross
Director/Screenwriter: Amiri Scrutchin
In a championship basketball game, our hero goes through a spiritual experience to gain an immense power to overpower his adversary. (World Premiere)
Fifteen
Director/Screenwriter: Louisa Baldwin
Fifteen is the story of first love for two teenage girls.
Forbidden Fruit
Director/Screenwriter: Sophia Rigg
A cat and her witch encounter a strange, sinister presence in the forest. (World Premiere)
Pet Sematary à la fermeture de SXSW, révèle la ligne complète du film | Male Extra : Des Érections Plus Grosses et Plus Dures
4.9
(98%)
32
votes